PCCM, 2020/7/22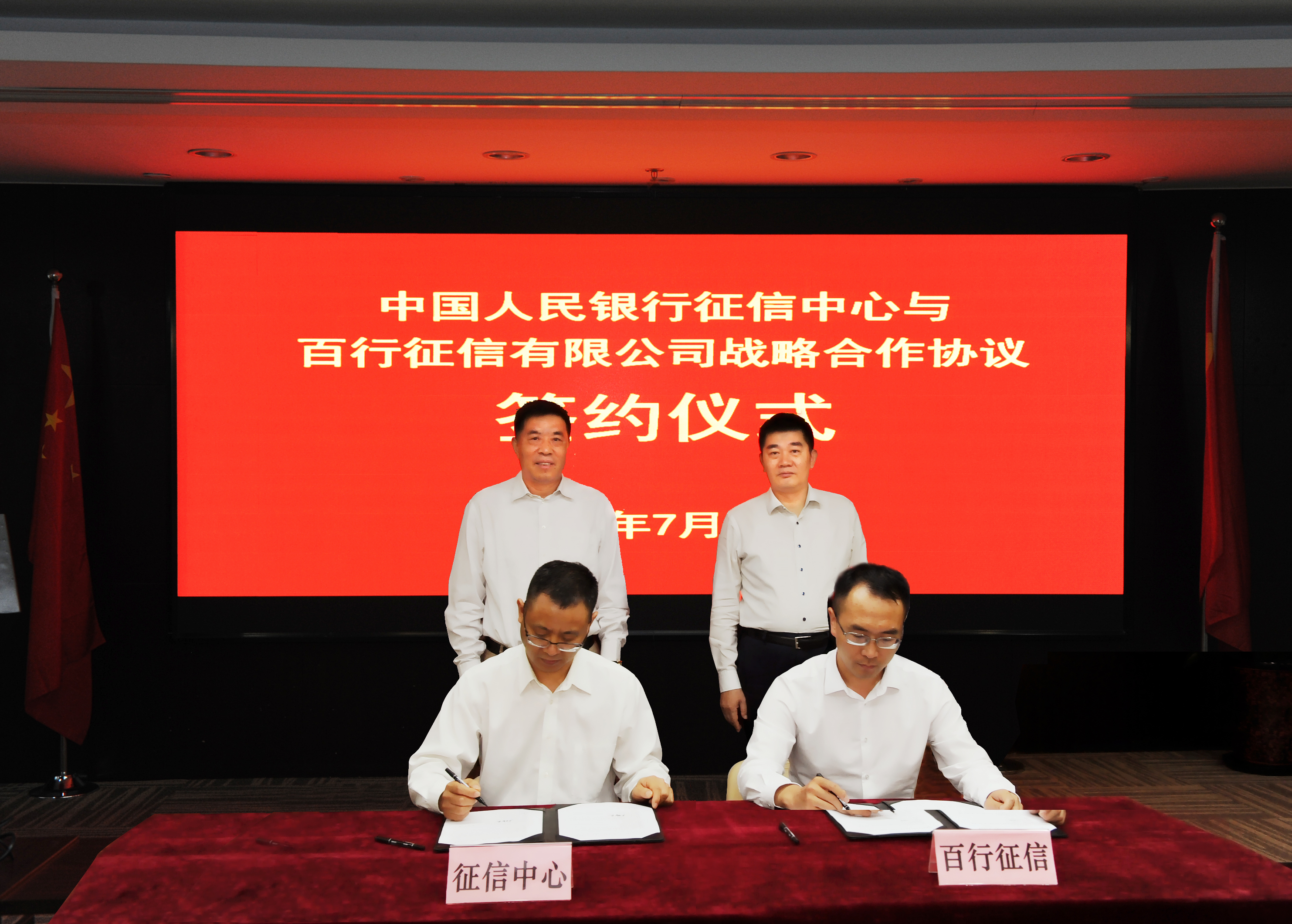 On July 17, 2020, the Credit Reference Center (CRC)of the People's Bank of China(PBOC) and Baixing Credit Co., Ltd. (Baixing Credit) formally signed a strategic cooperation agreement. Jianhua, Chen Secretary of the Party Committee of CRC, and Huanqi, Zhu Chairman of Baixing Credit, attended the signing ceremony. Zhenzhong, Wang deputy director of CRC, and Pengpeng, Liu vice president of Baixing Credit Information, signed the contract on behalf of both parties.
According to the agreement, the two institutes will actively carry out credit reporting strategy, business, and technical cooperation research under the premise of compliance with laws and regulations and guaranteeing information security, and effectively play the role of "government + market" to jointly promote the prosperity and development of my country's credit reporting market.
In accordance with the design of the PBOC on China's credit reporting market, the two institutions have achieved differentiated development, adhered to the principles of mutual benefit and gradual progress, and jointly explored innovations in cooperation mechanisms, enhanced the innovation capabilities of both institutes' credit reporting services, and jointly created and maintained a fair market environment. At the same time, both parties will strictly implement the relevant provisions of the 《Regulations on the Management of Credit Reporting Industry》to effectively protect the rights and interests of information subjects (Especially Consumers).
PCCM Review: It's a good news. The development of China's credit reporting industry requires resource integration, cooperation and sharing.
About The Credit Reference Center(CRC), the People's Bank of China

CRC was established in March 2006 with the approval of the State Commission Office of Public Sectors Reform. As an independent credit information service institution under the People's Bank of China (PBC), the Center's mandate is to establish, operate and maintain the national centralized commercial and consumer credit reporting system.
About Baihang Credit
Baihang Credit Co., Ltd. is the first company in China that has obtained a consumer credit reporting business license. It is organized by National Internet Finance Association of China and eight market institutes, including Zhima Credit, Tencent Credit, Qianhai Credit, Kaola Credit, Pengyuan Credit, Zhongchengxin Credit, ZhongzhichengCredit Report, and Huadao Credit. The company was incorporated in Shenzhen on March 19, 2018 and settled in Futian, with a registered capital of 1 billion Yuan.